EASILY CUSTOMIZE THE USER PROFILE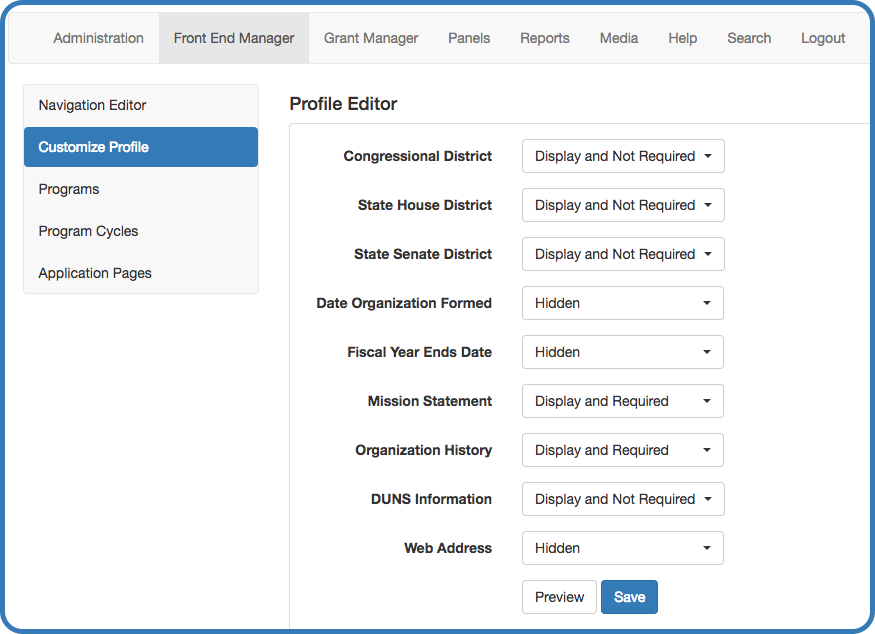 Include information that doesn't frequently change in the profile
Choose what information is relevent for your needs
You decide what gets displayed, hidden, and what is required
ADD CLARITY WITH ADDITIONAL RESOURCE PAGES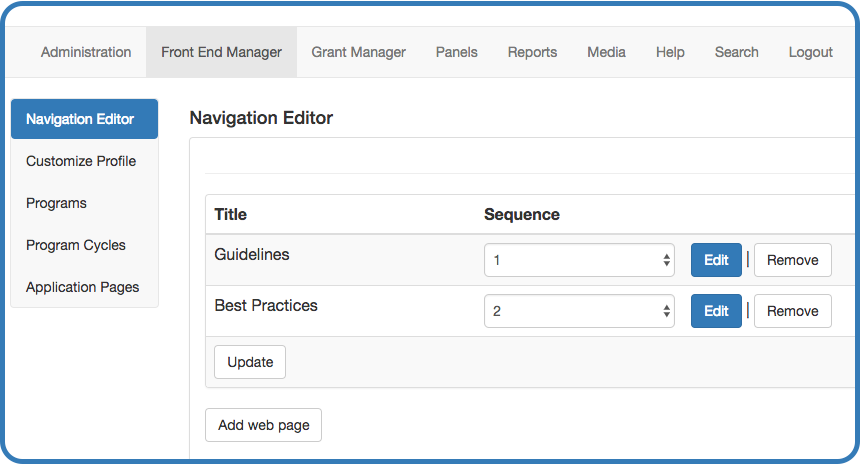 Easily add additional resource pages for your applicants
Quickly change the order of your resource pages based on what is most relevant right now for applicants
Add as many resource pages as you need
MANAGE IT ALL FROM YOUR DASHBOARD
Easily move applicants through your process using statuses
Quickly change statuses on the fly
At-a-glance view of submission date and time
Add custom questions in your application that appear on the grant dashboard
Click details to log in as an applicant, valuable for assisting applicants
PROVIDE A CLEAN SPACE FOR YOUR PANELISTS TO REVIEW, COMMENT, AND SCORE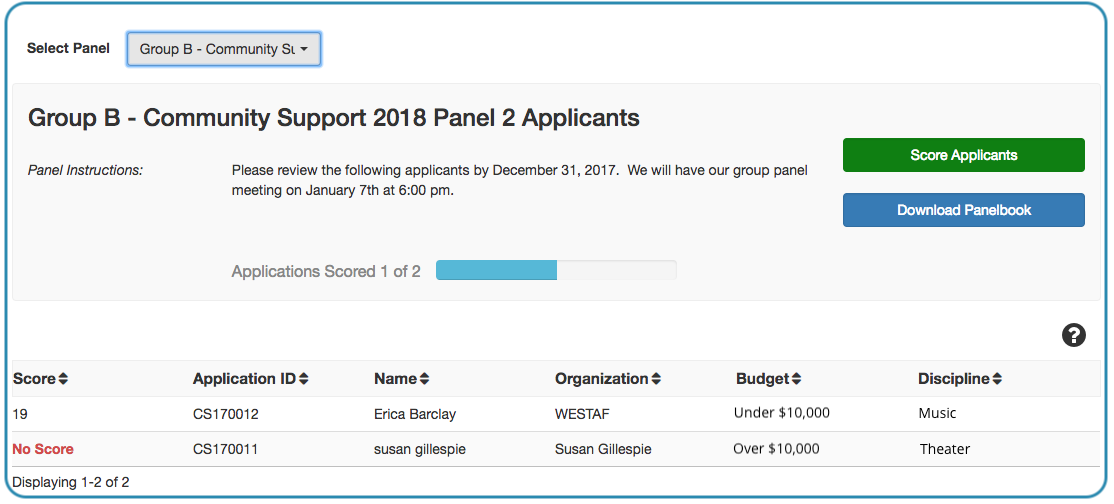 Your panelists can select from the panel(s) to which you have assigned them.
Include your own custom instructions.
The system will generate the list of applications that you have assigned to this panel. Panelists will view the list and can sort by any header and will see who has yet to be scored.
Panelists will see your custom category sort select responses so they can also sort by those items. Budget and Discipline are examples of these responses.
Allow panelists to generate their own Panelbook so they can view all applications in a master PDF for offline viewing.
SETUP
Quick implementation
Easy-to-use functionality
Stellar customer service
EASY FOR APPLICANTS
Modern responsive design
Streamlined profile that populates contact info to grant application
Simplified user roles
Upload module supports: pdf, doc, xlxs, jpeg, png, mov and more
CREATE GRANTS IN A SNAP
Templated forms
Budget tables with simple formulas built in
Automatically triggering rules based on statuses
Can allow applicants to apply to the same application multiple times
NEA – FDR template for State Arts Agencies
EFFICIENTLY MANAGE YOUR APPLICANTS
Ready-to-use statuses
Automatically generate PDF of application
Send emails by status
Send emails to individual applicants
PANEL RIGHT IN THE SYSTEM
Create multiple panels per application opportunity
Add custom criteria with designated score ranges
Assign panelists to single or multiple panels
Invite panelists to review, comment, and score assigned applications
Generate comprehensive reports of scores and comments
ANALYZE YOUR IMPACT WITH EASY REPORTING
Create custom reports of your application data that can easily be exported
Templated NEA FDR and project location reports
GET MORE FROM YOUR GO SMART DATA WITH OUR API
Automatically connect GO Smart data to other popular programs you already use
Create your own custom data mapping with our API key