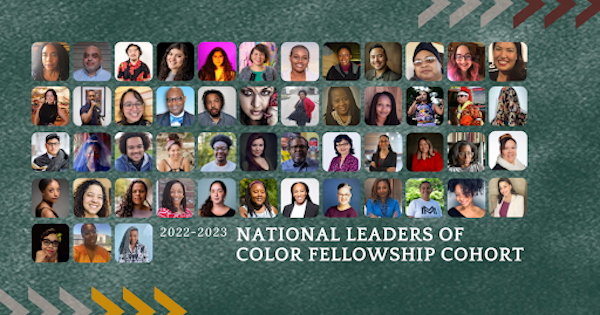 Earlier this year, the Western States Arts Federation (WESTAF) partnered with its five U.S. regional arts organization partners (USRAOs) (Arts Midwest, Mid-America Arts Alliance, Mid Atlantic Arts, New England Foundation for the Arts, and South Arts) to support an exciting expansion of WESTAF's Emerging Leaders of Color (ELC) program. A leadership development program specifically for Black, Indigenous, and people of color (BIPOC) leaders committed to the advancement of cultural equity in the arts, the eight-month fellowship program uses a cohort structure and emphasizes experiential learning, community building, and service to the field. The inaugural national cohort of 52 BIPOC arts and culture leaders from across the country will continue to build on the success of the ELC program, which has been partnering with and supporting more than 100 BIPOC arts and culture leaders since its inception in 2010.
The cohort will participate in a strategic leadership development program designed for BIPOC leaders committed to the advancement of cultural equity in the arts that emphasizes policy and data in the arts, leadership, culture of care, and strategic foresight through an advocacy lens. Fellows will also have the opportunity to learn from and collaborate with their peers.
The final session for 2022 was held on December 7 and cohorts delved into the topic of culture of care, while data and policy were topics during the November 16 session. Fellows work together in sub-cohorts on special projects to be presented in the Spring.
We are so proud that GO Smart was selected as the grant management platform for this program and were excited to partner with WESTAF's Social Responsibility and Inclusion (SRI) team to provide a streamlined and convenient experience for applicants.
Learn more about the National Leaders of Color Fellowship program here!