After (or while) you have conducted the panel for your cycle, you can create a robust report that includes both simple and comprehensive breakdowns of your panelists' scores and comments.
Navigate to the Reports tab > Panelist Report.
Select the Program, Cycle, and Panel for which you would like to build a Panelist Report.
Select the application status(es) that you would like to include in the report.
Sort by using the Ordered By and Direction drop-down menus.
Click Build Report.
View an HTML version of the report by clicking View Report.
Download a spreadsheet by clicking Download to Excel.
Click Build New Report to start over.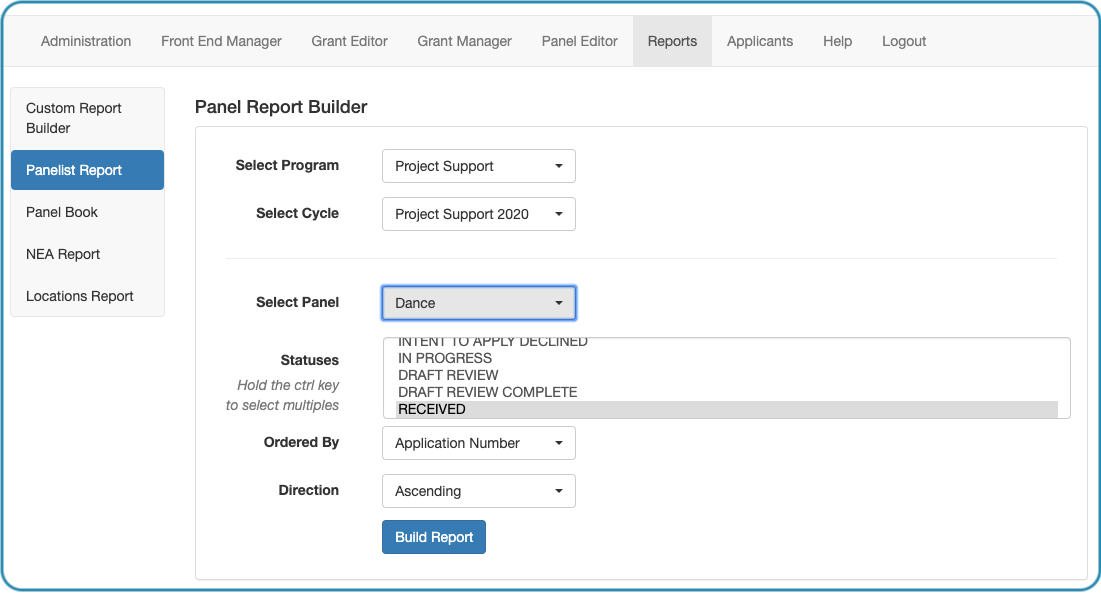 Things to know about the panelist reports:
You can view all of your comprehensive scores and comments in the Panelist Report.

Quickly view your panelist data by clicking the View Report button rather than downloading the report to Excel.

Panelist Reports can be pulled per panel, not per cycle.

If you reassign an application to a previously scored panel, those old scores and comments will be visible on the panelist report for the previously-scored panel.

Use the Excel spreadsheet to draft contracts and award letters with a mail merge or to pull a comprehensive report of award amounts.

The spreadsheet is available in Open Office and other spreadsheet software if Excel is not available.

See an example of a Sample Panelist Report.